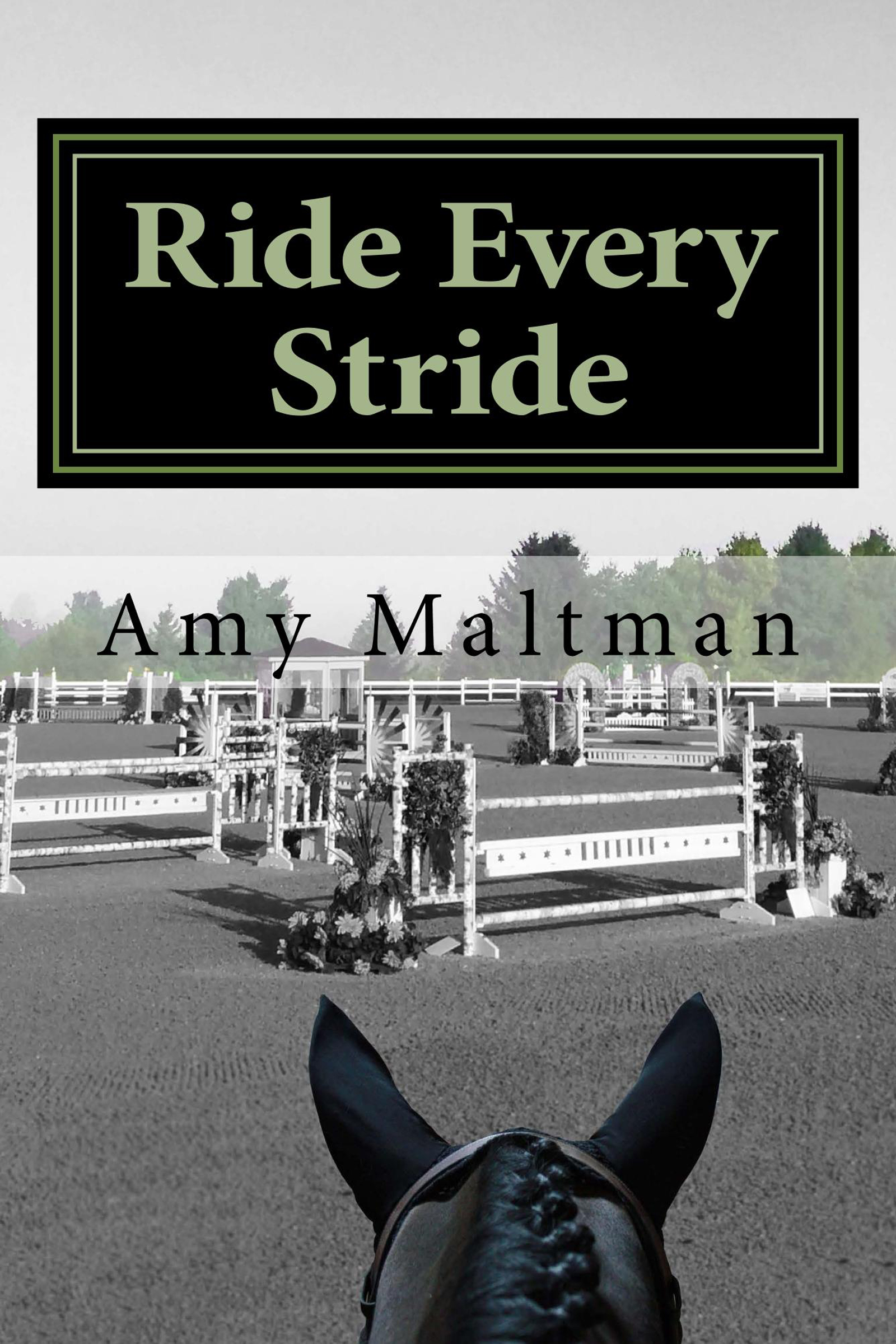 Ride Every Stride
By Amy Maltman
Click here to read first chapter
Click here to purchase book ($3.99)
What if you ran away from your past to pursue your dream, only to have that same dream bring you face-to-face with the very demons you hoped to escape? For Jed Carver, the answer is simple—ride every stride until the dream comes true, no matter what obstacle he must clear.
Jed is a secretive young man with a mysterious and troubled history. After hitch-hiking across Canada, he lands a job in an Ontario A Circuit barn with the ultimate goal of competing for his country. In this privileged world, he finds friendship, success, love, and a ruthless enemy who is determined to ruin show jumping's rising star.
Although it's set in the horse world, readers who aren't horse people won't be lost in the equestrian details. Ride Every Stride is about the strength and perseverance required to break free from past wounds and overcome new hardships in pursuit of a lifelong dream, and the general public will find plenty to love in the story's elements of mystery, suspense, and romance.
**Contains mature subject matter, including violence, coarse language, mild sexuality, and drug and alcohol use.**
(Cover photo by Anna-Marie Cappelli.)
Loved this book
Loved this book. One of those you didn't want to end. Of course I went to uni in Guelph, and have lived in Calgary and loved going to the Royal.... so as I said to my husband, what more would you want in a book?? He replied, 'sex', (of course), and there is some there not it is not ovrewhelming to the story, which is the way I like it- I'm not looking for a soft porn book, just a good read around horses. And this provided that!!
Vic from Amazon
Definitely the best book I've read in a decade
Definitely the best book I've read in a decade. Best horse book ever (and I'm well versed in all things equine) The characters are amazingly real and the story is so interesting, you won't be able to put it down. I bought it on my kindle and basically didn't move for 24 hours. I didn't ride my horse, which is pretty much like forgetting to breathe. I neglected my boyfriend, never went to sleep and I called in sick to work the next day. Getting up to use the bathroom was like torture. Everything was so vivid that, if I looked up for a second, I'd get confused and wonder what that great movie was that I was just watching. When it was over, I wished I'd read the other book I bought first because everything else seems so boring now. It's a great example of something done extremely well and I wish I could have controlled myself enough to make it last longer.
Emily from Amazon
A nice mix of mystery and information about the Canadian equine world,
It was so nice to see a work of riding-related fiction with a non-traditional (male) hero. As author of horse books myself (my most recent book also has a male protagonist) I'm always looking for something out of the realm of the ordinary. The book could be classified as a mystery and the narrative unfurls a bit like a mini-series with its constant twists and turns. There is lots of melodramatic (in a good way) dialogue and action--things never stand still. I very much appreciated the unapologetically Canadian references throughout the book (I'm an America, FWIW). I love books with very clear settings and the slang and equine references were all consistently of a very particular place.
Mary Pagones